Curator for Whitstable Biennale (2008-2016)
2016: Leslie Deere, Evan Ifekoya, Richard Layzell, Tessa Lynch, Lucy Pawlak.
2014: The ARKA Group (Ben Jeans Houghton & Matthew de Kersaint Giraudeau), Bronwen Buckeridge, Neil Henderson, Ben Judd, Una Knox, Katrina Palmer.
2012: Tanya Axford, Emma Bennett, Angus H Braithwaite, Tim Bromage, Chloe Cooper, Phil Coy, Benedict Drew, Performance Klub Fiskulturnik, Emma Hart, Sam Hasler, Internet (Diego Chamy & Siân Robinson Davies), Ben Judd, Jenny Moore, Tessa Lynch, Daniel Oliver, Tim Spooner, Aaron Williamson.
2010 (curated with Gemma Sharpe): Ruth Beale & Karen Mirza, Richard Birkett, Rebecca Bligh, Angus H Braithwaite, Lottie Child, Lucienne Cole, Augusto Corrieri, Brian Dillon, Ian Giles, Emma Hart, Richard Layzell, Annika Ström.
2008: Mark Butcher, Robin Deacon, Siân Robinson Davies, Beatty Hallas, Roz Hilton, Sandra Pearson, Natasha Vicars, Chris Yates.
> Go to the Whitstable Biennale website
What Do We Want?, Towards Common Ground, Clapham Common Bandstand (2012)
— With Siân Robinson Davies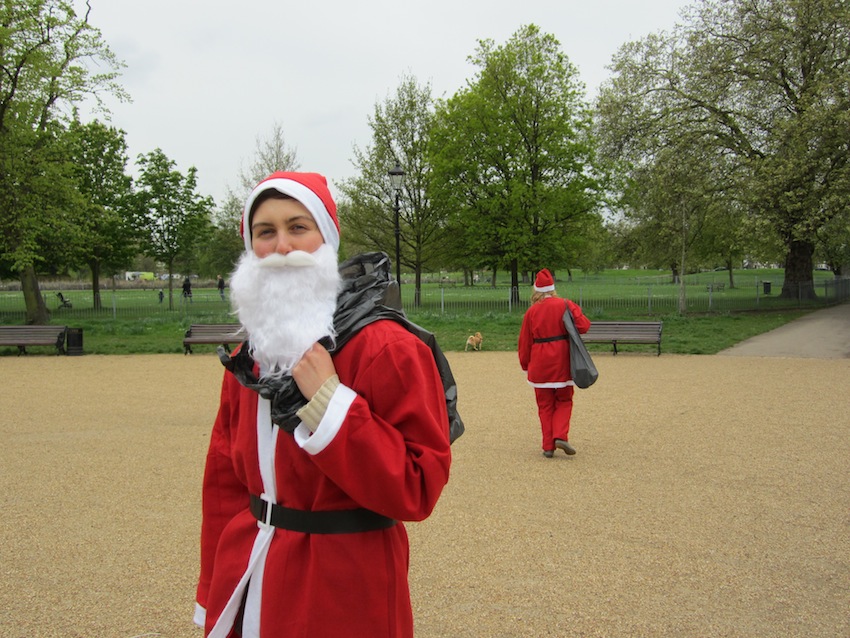 Read the publication
Conflicting Thoughts, Joint Creative Lab Residency at CCA Glasgow (2011)
— With Siân Robinson Davies
Emma Leach and Siân Robinson Davies were artists-in-residence at the Centre for Contemporary Arts, Glasgow from 1 – 30 September 2011. During their stay they were exploring conflict and how it is reported, described and mediated, with particular focus on Scottish history, current debates around devolution and the Celtic and Rangers football team rivalry as symbols of entrenched conflict.
Reportage, Residency at KUBE Gallery, Poole (2009)
— With Natasha Vicars
As part of their three-day residency at KUBE Gallery, Emma & Natasha recruited reporters locally, assigning them topics for quick response articles that connected with their experiences of Poole. The resulting 'newspaper' draws together different voices, and explores what it means to tell a story.

Download 'Echoes of a…'
Position Unpaid 
(2009)
— With Natasha Vicars
This project asked awkward questions about arts internships, and moves towards some constructive answers. The first action was presented at Royal College of Art; the second action was presented at Queen Mary, University of London as part of Labour Practices, an event organised by the Live Art Development Agency.
Taxi Walking 
(2008)
— With Bram Thomas Arnold
Emma and Bram undertook identical journeys on the same day, both taking a taxi three miles south and walking back home. Emma started her journey in east London, Bram started his in Totnes. On arriving home they both wrote everything they could remember from their respective walks. Conceived & initiated by Bram Thomas Arnold.

Read Emma's text
Do You Know What My Neighbour Thought It Was?, Gasworks, London 
(2007)
— With Erika Arzt, Juan Linares & Tim Leach
During Erika & Juan's residency at Gasworks, they invited Emma to join them for informal appearances in and around a local estate. Emma was asked to write a script with her brother Tim, which was then performed by Tim at Kennington Park Centre.